C.N.C. Press Brake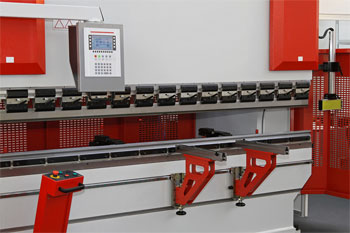 We have a variety of Press Brake machines ranging in capacity from 40 to 200 tonnes, and capable of folding up to 4m in length x 10mm in thickness. These machines are used to fold Stainless Steel, Mild Steel, Aluminum, Perforated sheet, Weld-mesh Chequer Plate and Expanded metal.
Our Press brake and folding machines are generally used as a secondary process after first
Cutting out a 2 Dimensional shape on either our Guillotine, Plasma Table or Turret punch.
This machine is used to produce a large variety of products ranging from Electrical Enclosures to architectural stair treads and bespoke structural sections. We can also press channels, angles, boxes, doors etc to your exact requirements.
Examples of product we produce on these machine are:
Pillar and Column Surrounds
Aluminium Window Cills
Electrical Enclosures
Tool Boxes
Table Tops
Shelving
Gun Cabinets
Stair Treads
Fire Doors
Access Hatches
Roof Openings